Today's Scenario
Things are changing so drastically!
Techniques that worked before are no longer good enough to put you even on the map. These days I feel the need to have Psychic Powers so that I can read my customer's minds.
Remember the good times when, all you have to do is plug in an Email Collector and send out your latest arrivals once in a while and generate good sales? That is no longer as effective as it used to be.
Reason? – "Customer Expectation"
Customer Expectations
Past few years there is a tremendous demand for personalization. This personalization doesn't end with sending an email to the client with his First name. It has gotten much more complex.
Customer need the emails to be tailor made specifically to them. They don't want to see anything that is last week.
"Today" is what they are looking for
"Today" is what they are interested in
"Today" is what they want to hear
If you send your customers an email based on his first touch point (could be his first purchase or the time he subscribed to your newsletters), it is going to lie in their inbox unopened or even worse…"Trash"ed.
According to a research conducted by Mckinsey&Company on "Customer experience: Creating value through transforming customer journeys", 61% of customers are more likely to buy from companies that deliver custom content.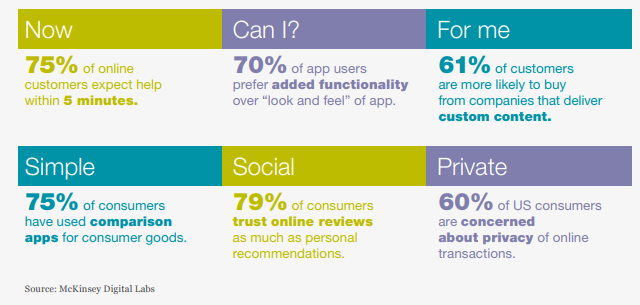 Wow! That is a lot of demand.
This is the result of increased Customers expectations. When they are thinking about your company or your product. They are not just comparing you with your competitors. They are comparing you with every other customer experience they had. With each new improved customer experience, their expectations are increasing.
They could be comparing you to a fine dine restaurant customer experience
They could be comparing you to a star hotel service
They could be comparing you to a SPA they recently visited
This will help you understand and answer the "Why's"
Why your customers are not giving you the 10/10 rating on your surveys
Why your customers are switching from one service to an other service
Why they are not able to decide even after you have offered them the best discounts
…and many more unanswered whys.
So, let's cater to their demand for higher satisfactory customer experience.
How to achieve "Satisfactory customer experience"
Achieving this level of Hyper Personalization demands customer-specific-intent approach. It could be overwhelming but if we take this through a series of breakdown funnels, things become less complex.
Before we get started, there are few pre-requisites you need to have in place to follow this approach:
You should have tracking tool in place to follow your customers (Could be Online and Offline)
You should take the help of a Data Analyst/Scientist
You should be flexible in your mind
Now, lets get started.
Step 1: Email Personalization – Lay the foundations
If you know who you want to target and which service to target based on your ideal customer persona
Get started with segmenting your customers into different buckets.
What can you expect doing this?
Well, check this report by Mailchimp on email open rates for segmented email.
Opens: 14.31% higher than non-segmented campaigns
Clicks: 100.95% higher than non-segmented campaigns
Bounces: 4.65% lower than non-segmented campaigns
Do these figures give you enough confidence on this topic?
But that is not the complete story. If you stop at Step 1 thinking you will achieve these results, you are dead wrong.
You need to read between the lines.
Customers have responded saying they are willing to buy from the companies who deliver custom content but you wont be able to do that with the current state of your segmentation.
Why? Because your segmentation has a major flaw. It is not a living, breathing, creature.
And why is that important? Because your customers are!!
They change their needs and requirements every other minute and if your tech cannot adapt to that, You are already ancient. Whatever you try to sell or talk to customer using the static segmentation buckets you have placed them are no longer relevant. At least 90% is not relevant.
This is BAD news!
The flaw lies in the data source. The source of you segmentation was a single data point which doesn't hold any value even in statistical sense. Knowing one thing about customer doesn't mean we know everything about the customer. Right?
We need more data to get a better picture of your customer. This data can be generated from various sources.
Step 2: Data Gathering
You need to collect data from first party, second party and third party.
First party information is the data provided by your consumers when signing up, purchasing a product/service, data collected through tracking your customer's website behavior and so on.
Second party data is basically the first party data collected by a complementary company (where you have similar audience but different products) e.g., high end watches and luxury cars
Third party could a social data/public data about your customers or data collected by data collectors (DnB, DMPs etc)
When we are trying to collect this data make sure you keep the following things in mind:
Unified Approach – Create a unified approach on what kind of data you want to collect
Transparency – Always let your customers know why you collecting data and how does that help them. Transparency and value proposition is the key to collect super confidential data
Security and Risk – We are asking the customers very personal but relevant questions so we should safe guard that data.
Technology barriers – Since we are collecting data from multiple points, we need to figure out a way where one tech can talk to an other tech sharing the data and synchronizing based on it.
Customer Experience – How to provide your customers with better experience based on their recent interactions
Customer Insights – What do we know about our customers to create those interactions
Step 3: How to Break this Data
Data from all these data points can help you gather enough information to deliver hyper personalization/individualization. Now that you have all the right ingredients lets see how to put them together.
We need to analyse the following aspects:
Profile

Identity
Accounts/Ids (email, social, account with your company etc)
Tech ownership/use (mobile, laptop, wearables etc)
Demographics (age, race and sex etc)

Attitudes

Preferences (What do they own, What are they looking for, etc)
Disposition (Interests, Attention span etc)

Sentiment

Feedback
Ratings/opinions

Content

Social Media
Applications
Files
Public Records

Affinity

Membership/Networks
Affiliations

Behaviours

Interactions
Transactions
Marketing Responses
Testing Responses

Context

Time/location
Environment
Situation
Journey/activity
Step 4: How to make Business Sense of this Data
Your Goal is to provide your customers with the best experience possible and to do that you need use the data given above with their current state of interests.
Since you already have the historical data on your consumers, do a predictive analysis to forecast their possible future interests. Now, score them using Propensity Model (based on the last touch point) to give them the feel of "You are in good hands" and even suggest them the best course of action.
Every company is different in its own ways. So what works for one might not work for others. There are a lot of data analytics techniques that can be used to tweak and improve your Marketing Engine. If you are interested, I can do a detailed write up on what kind of things can you predict, What are your customers talking about you, we could even predict your consumers Brand Loyality. So, let me know your interest in the comments.
Results
We could potentially use these findings to,
-> Optimize your Search bids
-> Optimize your ad personalization
-> Increase your accuracy on Predictive Re-targeting
-> Personalize your website using Dynamic texts (check out unbounce's dynamic text functionality to achieve this on a landing page)
This should help you reach out to your customers in-the-moment with whichever tech they have in front of them.
Could use Geo-targeting when the customers are in the vicinity of your physical store to send SMS to notify them about a "back-in-stock" product they were looking for, or a new arrival that might suit their persona
You could reach out to them using the on-screen displays when browsing in-store
Bring out recommendations when browsing online
Could provide relevant data to your in-store representatives or customer support to understand where the customer is coming from to solve a problem, cross selling or up-sell
You can even provide the data to a chat bot to help the customers with suggestions through the journey if they are going in loops
Significantly improves Retention rates for your organization
If you are able to achieve that, you will also understand what medium resonates with your customer persona the most and achieve a significant upper hand over your competitors.
Machine Learning truly does make the Leaders in the Future.
Remember the Gap's In-store Personalization scene from the Minority Report?
This could be our Future!
Examples of what leading companies are up-to:
Gap Inc. is testing out it's mobile virtual dressing room technology to give customers the feel of look
Have you tried Lenskart's in-app 3D feature?
Mahindra with its new launch of "Bring the Showroom Home" VR experience is disrupting new buyers shopping experience
Dulux with its Color Visualizer let's you virtually paint your room. Customer can play around with different color combination and let their imaginations take the wheel
Adidas let's you create your own shoe whilst capturing you preferences and popular choices
They are all gaining ahead by taking a pure Data-Driven Approach. If you look at all the examples shown above, customers are providing the system with immense data on their personal preference which we cannot gain from normal survey's. We are collecting here one of the purest forms of customer's choices.
This is why Machine learning is going to give you the extra edge which our traditional methods can hardly accomplish.
What is holding us back
You must be thinking a lot of companies do collect their user data on a regular basis and segment them based on it. What is holding them back.
Non unified approach or lack of goal driven data collection
Not everyone in the company is trying to provide the ideal experience. Most of the times this is due to lack of training and transparency.
Analytics or Data scares people
Don't know how to tie these together
There are the few common causes that I came across.
If you are not yet ready to take the leaf of faith, I can understand as this is definitely overwhelming and might increase your marketing expenditure by multi-fold just for the setup. But there are a lot of Data enabled technologies in the Market that could give you a head start, I have listed a few technologies you could use to begin you data-driven approach for dynamic segmentation to enable best customer experience.
Achieve Hyper Personalization using these Advanced Marketing technologies
Here are list of tool you could explore based on your preferences and business model.
Personalization
These web-based technologies can help you with product recommendation and personalize your interactions with your customers.
Sailthru
iGoDigital
Evergage
LimeSpot
Nosto
Marketing Automation
These tools can help you with various campaigns and develop interaction based engagement to close more deals and keep your customers informed.
HubSpot
Adobe Marketing Cloud
IgnitionOne
Salesforce Pardot
Salesforce Marketing Cloud
Social Media Content Analysis tools
These tools can analyse your consumers interaction on social media and use them to increase sales and build a brand reputation.
TINT
Foursixty
Olapic
Thismoment
Pixlee
Re-Targeting
These tools can help you get back to your visitors with better offerings.
Facebook Web Custom Audiences
Google Dynamic Remarketing
Google Remarketing
Criteo
Tapad
A/B Testing
You don't have to do the guess work on what would work with these tools.
Optimizely
Visual Website Optimizer
Google Analytics Experiments
Adobe Target
Maxymiser
Marketing Data Providers
These companies can help you with greater customer insights beyond what you could get from your normal means. More you know about your customers the better your campaigns could be.
Quantcast
comScore
DataLogix
ownerIQ
Web Analytics
Track your visitors website behavior by using these tools
Google Analytics
Facebook Analytics
Yandex Metrica
Google Analytics Ecommerce Tracking
Snowplow
Marketing Analytics
These companies use various advanced marketing analytics to custom develop a model to suit your marketing needs.
Convertro
Visual IQ
IO Technologies
Korrelate
AirPR
Loyalty and Gamification
Your promotions and loyalty programs will be a lot more interesting with these tools.
Smile.io
Rafflecopter
Gleam
Zinrelo
Account-Based Marketing
Keep you customers close and happy by using these account management tools.
Demandbase
Azalead
Terminus
Engagio
Last, but definitely not the least, Zaius – a cross-channel Marketing Automation tool for B2C. Its amazing to see what Zaius can accomplish.
If you want to take this up a extra notch, you could potential look into Neuro-Marketing tools aswell.
Key Takeaways
Get to know your customer more. More you know, better your approach can be
Be obsessive about your customers data and be subtle in your approach
Teach your team the things you learned from this article to make sure everyone is one the same page. Transparency and Value proposition is the key to success.
Create milestones to see success at each module, this will give your team the required boost.
Hey Reader!
Thank you for taking your time to go through this elaborate article. Appreciate it.
What is the one thing you might want to take from this article?
Would love to hear from you. Tata!