You have tried all ways to boost your website lead generation and performance, despite that you didn't get any results. You are frightened of losing the hard-earned money that you invested in establishing your dream business.
Your heart sinks and your mind whispers, "What kind of business is it if there is no ROI?"
Don't worry, we've got you.
Your company's website is the identity of who you are, what you do, and how your clients can benefit from you.
According to Neil Patel, only the first three pages on google get 65% of the total clicks. This means that your website should be optimized for the right target audience and rank higher on the search engine to generate leads.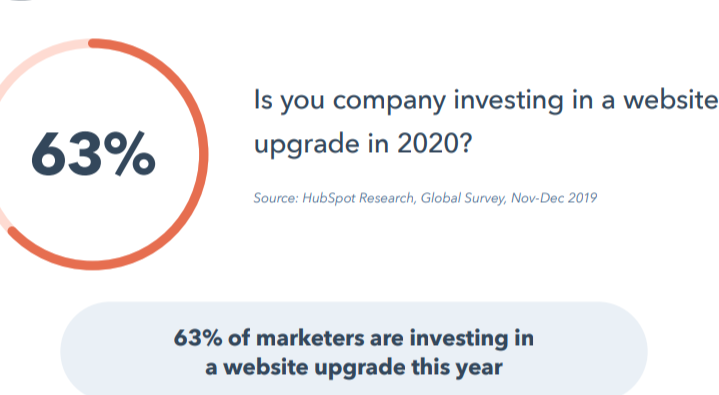 Hubspot marketing report 2020 states that about 63% of the marketers are investing in a website upgrade for lead generation.
Moving further into the article, it is important to know what B2B leads are and why it is important for your business.
I can send new articles straight to your inbox. You can ask me your questions too :)
Stages of Marketing Sales Funnel
There are primarily three stages of the marketing funnel
Stage 1: Top of the funnel
This is when you get to introduce yourself, your company, and the services you offer. People have little or no idea about you or your business.
The top of the funnel aims to educate your target audience about your services.
It takes time and consistent efforts to bring people from the first to the next stage of the sales funnel.
You can use content such as blog posts, free courses, videos, podcasts, and social media platforms to nurture and provide them with value.
Stage 2: Middle of the funnel
People have an idea about you and your company. They start showing interest but are still in a dilemma whether to purchase your services or not.
This is when you start building trust to motivate them to buy.
Show them why you are unique and why they should buy from you. Include testimonials, case studies, whitepapers, free trials so that they choose your services.
Stage 3: Bottom of the funnel
People trust you. They are just one step away from being your future buyer. Any kind of offer, free materials will convert them into clients.
However, the entire process of lead generation includes a lot of steps, and optimizing your website is one of them.
What is B2B Lead Generation?
B2B lead generation is the process of converting your potential prospects into leads and then nurturing those leads to buy or purchase your services.
The average time your website visitors take to decide if they want to move further or not is merely 15 seconds. With such a shorter time, your website must be able to convince potential prospects to buy.
There are generally 4 types of leads in the B2B industry.
👉 Information qualified leads: IQL is the weakest of all leads. They are the people who have very little or no idea about your business and services. They acquire the top position in the sales funnel and need to be nurtured to qualify for sales.
👉 Marketing qualified leads: This is the next step of the marketing sales funnel. MQL proceeds by taking action like signing up, downloading an ebook or PDF.
👉 Accepted leads: These leads require marketing campaigns and consultation to be qualified to reach the bottom of the funnel. Accepted leads include people who know about your business and services, but should be convinced to buy.
👉 Sales qualified leads: This is when people take action to buy your services or product.
Lead generation through websites is cost-effective and has a higher chance to gain more organic customers.
Best Ways to Optimize Your Website for Lead Generation
Now sit back and relax. You are about to discover some of the highly proven ways to make your website lead generation-friendly.
Optimize for Search
Your website must generate visitors consistently to identify potential customers and convince them to buy.
Search engine optimization plays a key role in ranking your page higher and increases the chance of visibility of your webpage.
According to Brian Dean, there are over 200 factors considered by google's algorithm in terms of ranking your page.
Maintain On-Page SEO Checklist
"Google wants the user to be happy when they visit your web page", says Neil Patel
On-page SEO aims to make your website more user-friendly and engaging. The more value you add, the higher you rank.
Maintain Quality of the Content
Content is not only the KING, it's the KINGDOM. And the quality of your content determines the decree of your kingdom. The content should focus more on engagement. Be generous to share enough information so that your customers will never get a chance to visit other websites to clear their queries.
Choose Summarized Headlines
Make your headlines catchy and captivating enough for your customers to click. For example, see how Brian Dean has quoted a headline that answers all the possible questions like
Avoid Using Clickbait
Imagine if you are searching for the topic " How to lose bodyweight " and you come across the heading " Lose weight in 20 minutes by just sitting on your couch". You get excited and click, but you find a hundred-step guideline on reduced intake of calories, regular exercise….etc…and you go, POOF!!.. Your content may be highly legit, but if your headline is not relevant to your content, you will lose visitors instantly. Use headline generator tools like the content row to generate headlines that are catchy, simple, direct, and insanely true.
No Keyword Stuffing
Google has been the largest search engine ever. With over two lakh websites launched every day, Google's algorithm doesn't involve reading your entire article word by word. Keywords are an effective way to assess the quality of your content. Find relevant keywords from tools like Uber suggests and add them to your article. This tool will also let you analyze the density and search volume of the keyword. Prefer using a long tail keyword for better visibility.
Keyword stuffing is the first gateway for the worst quality content.
Provide Direct Solution
Your website is the index of your business. Make sure that your website answers the following questions.
Who are you?
What services do you provide?
How are you legit?
How are you unique from other brands?
What will the customers benefit from you?
Do Off-Page SEO
Off-page SEO tells the search engine how reliable you are based on the number of websites pointing to your pages.
The analogy is very straightforward. When people like your content they might refer to or cite you on their web pages.
Any activities we do beyond the website contribute to Off-Page SEO.
It includes link building, building trust, laying out your pages, referrals, being active in social media, etc
No matter how valuable your content is, Google will never be able to identify the authenticity of your web page if you don't have any links pointing towards you.
Here are some of the ways to build links organically.
Long-form Content and Guest Blogging
According to Brian Dean ,well-detailed and long-form content gets 77% more backlinks than shorter posts.
When you publish your guest posts in your related industry, it will automatically grab more attention. With guest blogging, you get a chance to interact with a greater audience.
Social Media Shares
Though Google is the largest search engine, social media platforms like Twitter, Linked In, Facebook, and Instagram are not less in terms of attracting greater audiences.
Market your content consistently on Social Media to get as many shares as possible. This will skyrocket your website visitors and ultimately boosts up your website lead generation rate.
Backlink Building
Search engines should know what others over the internet are talking about your business. This information is transmitted to the bots via hyperlinks or backlinks. When someone quotes your business, it not only allows bots to increase the credibility of your business but also creates a path for a user to reach your website.
Optimize Every Step of Your Lead Generation Funnel
Create a killer landing page
A landing page is the best way to showcase what you have and what you can provide. A promising landing page for lead generation must contain basic information like what services you provide, how much it costs, and how it will work. Your website's homepage stands at the top of your marketing funnel. A proper CTA must be included in the front of your website.
Consider attracting them by providing free trials, ebooks, guides, newsletters, live chat services, and free courses.https://marketinginspire.com/create-killer-landing-page/
Take an example of The professional wingman landing page. They offer services to help you find a meaningful date and relationship.
Their landing page has everything including attention-grabbing CTA to attract more leads.
Build your email list
Not having an email list is the most common negligence. Build your email list faster with our pro tips.
Email lists and marketing campaigns are responsible for 70% of the lead conversion rate.
"Subscribe to our newsletter" doesn't work anymore.
You should put in a little extra effort to convince people to share their email Id with you.
Craft your CTA in a unique way like Investopedia. It is a leading platform that provides financial and investment advice.
You can also create a customized CTA using tools like CMS HUB. This will instantly create a sense of belonging for the customers.
Nurture your leads
The process of nurturing your leads is to educate them with relevant content, give access to your services ( eg: free trial), and engage them throughout every step of the sales funnel.
Many businesses fail to nurture their generated leads which will automatically reduce the conversion rate.
According to the 2019 lead conversion rate reports, 60% of the businesses fail to nurture their leads.
People who don't show any interest in your product/ services often called cold leads must be nurtured very carefully for a long period to obtain sales.
Your leads will require constant attention and value to make them convert. Once they visit your landing page and fill out their forms, send a kickback or a thank you email to immediately acknowledge them for their action.
Start providing valuable content through email campaigns to remind them of your services.
Consistent marketing campaigns, freebies, testimonials, follow-up emails, and proper CTA's will boost your conversion rate.
Measure the Performance Frequently.
Although you follow all the possible steps to optimize your website for powerful lead generation, you should frequently measure the performance of each element.
If you fail to do so, it's the same as trying to start a car that has a default engine.
Search Visibility
Visibility analysis is a tool that will help you have a report on your website visibility.
It also gives you a competitor analysis in terms of web ranking.
You can keep a track of your monthly visitors, organic traffic rates, and your category ranking.
A/B Testing
A/B testing is a method to measure the metrics of lead generation in a split method.
In easy terms, it is the comparison of two different variants of your website. This will help you analyze the variant which drives more traffic or conversions.
The winning variant can be your CTA or your landing page. The other variant should be optimized to equalize the lead conversion ratio.
Lead Generator Tools
Most of the lead generator tools are paid for. These tools handle the entire sales funnel and help you track the process of each prospect.
Leadfeeder is one of the best options to generate leads. They follow up with your visitors and provide them what they need to bring them towards the bottom of the sales funnel.
This tool is also helpful to generate cold leads and the outreach of potential customers to your marketing pipeline.
Conclusion
You have an idea of how lead generation works. It's ain't rocket science. All you need is a proper strategy and guidance to boost your B2B leads.
Not get your back straight and apply all the ways listed to optimize your website.
To make your journey easier, we have prepared a 10- step checklist on ways to make your website a lead generation factory. Download them here and ensure that you don't miss out on any points.
All the best!